BILBAO
It has been transformed from industrial village into an attractive city, older than 100 years. Bilbao has a broad cultural offer like the Guggenheim Museum, the Euskalduna Palace of the Arriaga Theater. Another possible alternative is to enjoy the architecture walking over avenues, bridges, old quarter and through its river edge. Currently, we can affirm that Bilbao it is a modern city with many opportunities for entertainment. At the end of June 2010, Bilbao has been awarded, in Singapur, with the "Nobel Preis" among cities due to its transformation recent years.
Distance: 30km, around 30 minutes.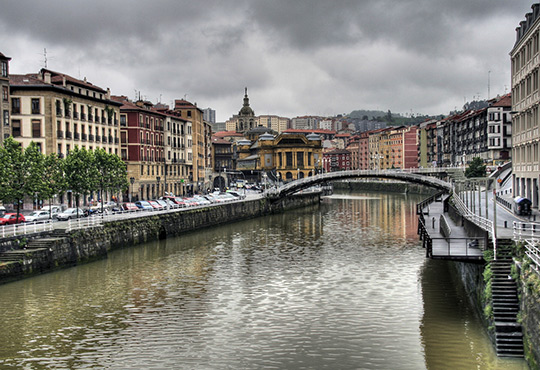 Place of interest:
– Guggenheim Museum
– Euskalduna Congress Palace
– Bilbao Exhibition Centre (BEC)
– Arriaga Theater
– Basque language house
– Fine Arts Museum
– Maritime Museum of the river of Bilbao
– Museum of Archeology
– Birthplace of Miguel de Unamuno
– Old quarter
– Riverside Market
– Basilica of Begoña
– Sagrado Corazon Monument
– Building of "La Alhondiga"
– Funicular of Artxanda
– Getxo Aquarium
DONOSTIA-SAN SEBASTIÁN
Modern city located in the coast of Guipuzcoa and very well known because of its famous Pintxos , the International Cinema Festival , the bay of La Concha and the Congress Palace and Auditorium Kursaal.
It has been since the end of the XIX century, one of the most known tourist destiny in the Iberian Peninsula, reflect of the taste of the bourgeoisie and monarchy which gives to the city a noble character.
Distance: 88km, 1 hour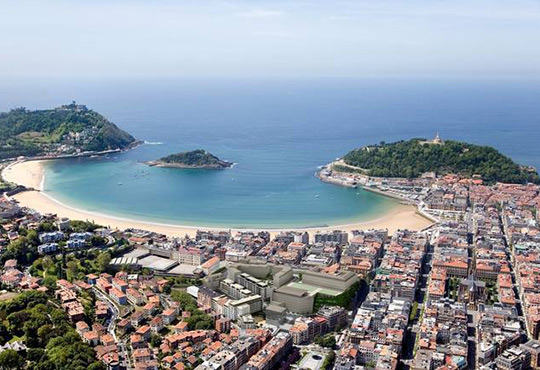 Place of interest:
– Bay of La Concha
– Victoria Eugenia Theater
– Miramar Palace
– Kursaal
– El peine del viento (E. Chillida)
– Kutxa space of Science
– Tabacalera (International Centre of Contemporary Culture)
– Aquarium
VITORIA-GASTEIZ
It is a fortified village of the XII century with a very commercial nature, capital of the Basque Autonomous Community and hostage of the main important Basque political institutions.
It preserves its old quarter and each street maintains the names of the gremial activities carried on in that period: Cuchilleria (Cutlery industry), Zapateria ( Shoe makers), Herreria (Smithy), Pintoreria (Painters)… The Cathedral of Santa Maria, inspiration for Ken Follet in his book "World without End", able life visits to the restoration works.
Distance: 62 km, around 1 hour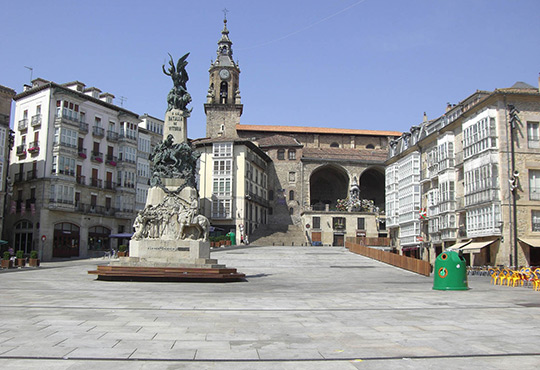 Place of interest:
– Artium (Basque Museum of Contemporary Art)
– Museum of arms
– Cathedral of Santa Maria
OTHER DISTANCES
– Pamplona: 158km, 1h 50 min
– La Rioja: 173 km, aprox. 1h 45 minutos
– Madrid: 413 km, 4h 20 min